We've raised $44,454 for the GBS/CIDP Foundation! There's five weeks to go in the year — and still around $7,500 to go to hit our goal of $52,000. It's time for me to start shaking virtual tins in the street…
There's good news on the running front — we ran race 47 today, and so with five weeks to go, there's five weeks to run! Eminently doable!
Stats: 85% of the way to our fundraising goal, and 90% of the way to our running goal.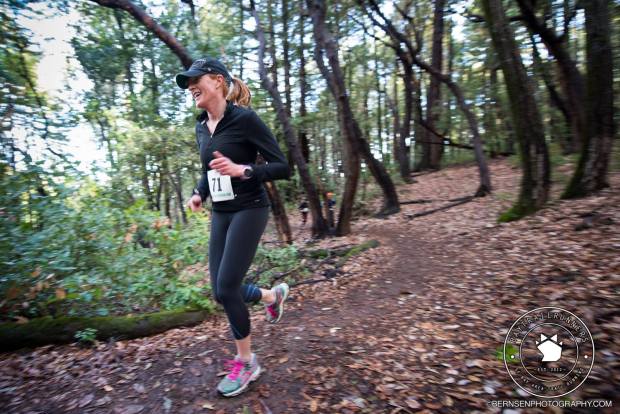 So, what's been happening?
It's been a great month. Our generous friends Gretchen DiNapoli and Gene Cook both donated $250 for a *third time*. I am so grateful to both of these amazing people! Wow. My friend and eBay colleague Imran Khan donated $100 — another act of incredible generosity! And, last of all and certainly not least, an anonymous donor sent in $500 — I know who he is, and I'm thankful for his kindness as always. All in all, a huge leap forward in our fundraising over the past couple of weeks…
I love the photo above of Selina running through the woods in the recent Whiskey Hill 10k. We've certainly been running a ton to get our promise of running 52 races this year on track, and today we are exactly that — five weeks to go, and five races to run. If you head over to the left menu here at http://fiftytwofives.com you'll find race reports from our recent adventures.